West High Boys and Girls AA State Track Champions!
Click here for more!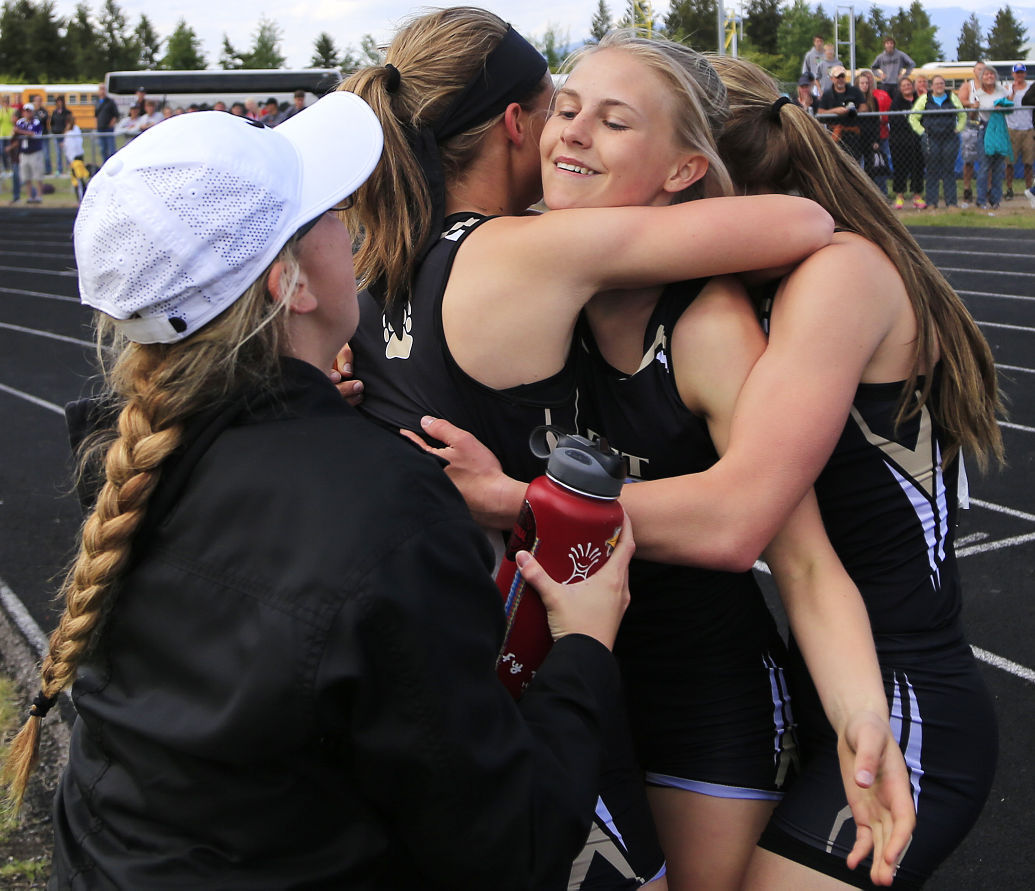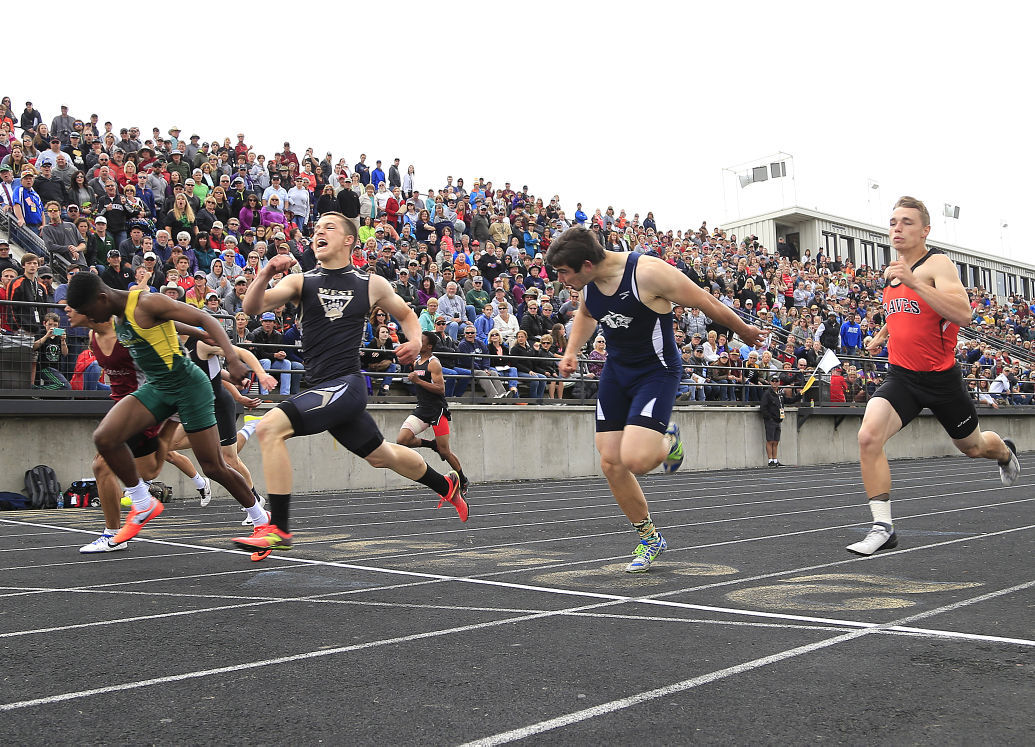 ---
Youth Leadership Billings
These students spent one Wednesday each month learning about our community and becoming young leaders.
Whitaker Mercer, Dylan Burton, Jacob Linfesty, Michael Gesuale, Heaven Cherpeski, Shelby Rheaume,
Jessica Moler, Oliver Robson, Erika Byrne, Kate Loveless, Anna Potter, Shae Helterbran, and Heyli Pederson.
---
2016 AMC-B Math Contest Results
AMC-12 Top Three
Mercer, Whitaker
Hodik, Kyler
Linfesty, Jacob
AMC-10 Top Three
Bentzel, Hayden
Gibb, Lucas
Hovland, Erik
2016 Trigstar Winner
Mercer, Whitaker
---
AP Class National Spanish Exam 2016
Trevor Canty, the highest placer in AP Spanish
and won a bronze award nationally.
Honorable Mention
Participants
---
LE GRAND CONCOURS
National French Exam 2016
FRENCH 4
NATIONAL Award Winners
Erin Stafford – Bronze Award and first place in Montana
Addison Gottwals – 2nd place in Montana

---
National Spanish Exam Participants
---
Layne Britton, Will Harris, and Jarren Burleson
for their first place in the state wide computer programming competition
sponsored by Rocky Mountain College.
Also competing and taking 4th place were
Carson Williams, Jacob Bertrand, Cody Mitchell, and Shelby Huston.
---
BPA National Winners and Placers!
Below are the results from our BPA National Leadership Conference
in Boston, MA.
Nicole Bogunovich, BPA Advisor, is pleased to inform you that
Billings West High School has
TWO 1st National Leadership Conference winners
(the first time in over ten years!) and
FOUR students that placed in the top 15 in their event!
FIRST Place in Small Business Management Team: McKenna Hillier,
Jacob Linfesty, Brooke Butler and Holly Monroe
FIRST Place in Extemporaneous Speech: Jacob Linfesty
National Merit Scholar Award Winner: Cassidy Shaver
8th Place in Payroll Accounting: Cassidy Shaver
11th Place in JAVA Programming: Wilson Harris
14th Place in Financial Math and Analysis: Ryan von Rohr
15th Place in Banking and Finance: Lyla Brown
---
Stock Market Game Competition
Mr. Nieto had 8 teams compete in the Stock Market Game
for all of Montana and 6 teams made the top 100.
3 teams made the top 50.
The team of Conrad Smith & Tristan Gleason finished in 2nd place
with a portfolio value of $124,937.68.
For their efforts they are being rewarded with a $150.00 gift card.
---
West High Library
for receiving the
Education Foundation Grant
The grant entitled But We DO Judge a Book by Its Cover
will be used to purchase a bevy of new classics books for the Library collection.
The library is incredibly excited to get to supplement their collection with the
great literature that our students deserve and need.
---
Coach Kriskovich:
500 Career Wins with Girls Softball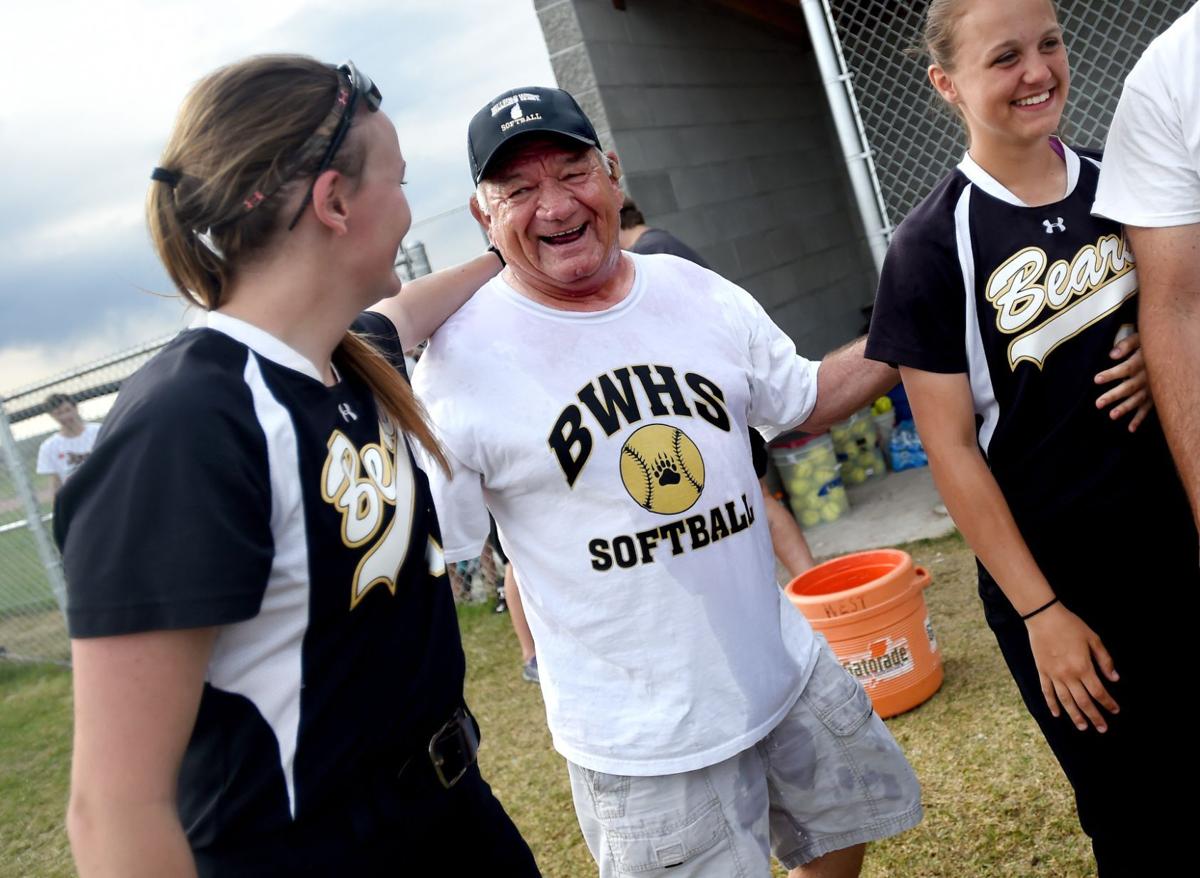 ---
Lacy Watson
Glenda McCarthy and our own Don Barcus just presented Lacy Watson
with an Education Foundation Grant.
We are so proud of Lacy and the work she has done on behalf of our students.
Please feel free to ask her about the intensive field trip she has planned
for next year, as well as congratulate her on this award.
Congrats, Lacy! We are glad you are a Golden Bear.
---
2016 Technology Student Association Team
Jordan Lemm, Jared Vannoy, Carter Henderson, Taylor Brown, Will Harris, Layne Britton, Jarren Burleson, Jesse Arstein, Zach Hetland, Colton Bunnell

Awards:
Catapult Design 3rd Place- Colton and Zach;
Line Follower 1st Place- Jarren Burleson; 2nd Place-Will Harris;
1st Place Technology Challenge- Jarren Burleson & Will Harris,
3rd Place Vex Robotics- Layne Britton & Jesse Arstein

---
Business Professionals of America
State Results 2016
Jacob Linfesty is Montana BPA's new State President
Click here to see ALL the results

---
West High Speech and Debate Team
The speech and debate team returned from Bozeman Saturday night with two national qualifiers and two alternates. Jess Keller started the tournament with six wins and no losses and qualified in Lincoln Douglas Debate, and Jacob Linfesty qualified in both International and Domestic Extemporaneous Speaking. Both have earned automatic berths to the national tournament which will be held in Salt Lake City this June.
Maddy Ouellette and Maddie Sholar are alternates in Public Forum Debate. Congratulations to these qualifiers and alternates on this impressive accomplishment.
---
Congratulations to Lacy Watson!

West High would like to share some great news about our own Lacy Watson. She has
been awarded the Ferst Fellowship from Gratz College to pursue her MA in Holocaust
and Genocide Studies. Applicants were awarded the fellowship based on their
exemplary admissions qualifications and commitment to Holocaust and Genocide
Studies education. As many of you know, Lacy has studied this topic both here in the
US and abroad and has shared what she has learned with our staff and students. Gratz
College is a private Jewish university in Philadelphia, Pennsylvania. This scholarship
award will allow her to expand her commitment to learning and sharing this important
area of study.
Congratulations, Lacy! We look forward to learning along with you.
---
Congratulations to our own
Rachel Schillref
for being awarded a
$300 Q2 One Classroom at a Time Grant
sponsored by First Interstate!
We appreciate all that Rachel
does for our students. Watch her on
Monday, Feb. 1 on the
5:30pm Q2 news cast.

---
West High Speech and Debate Team
Missed fourth place at the state tournament at Skyview this weekend by a mere 4.5 points, but came home with a respectable sixth place finish. Both speech and debate competitors contributed to the team's success, and several individuals has standout days.
Mary Helen Satrom: 7th place in Extemporaneous Speaking.
Craig Walker: 7th place in Lincoln Douglas Debate
Jacob Linfesty: 7th in Expository Speaking
In addition to placing at state, the following also earned All-State designation by placing in the top four in their respective events:
Trevor Canty: 3rd in Impromptu Speaking
Maddy Ouellette and Maddie Sholar: 3rd in Public Forum Debate
Jacob Linfesty: 3rd in Extemporaneous Speaking
Jess Keller: Runner-up in Lincoln Douglas Debate
Many others also placed in the top sixteen. Congratulations to the Speech and Debate Team for your showing at state, and good luck to those competing at the national qualifier in two weeks.
---
Billings West Softball Coach
Ed Kriskovich
National Coach of Year Finalist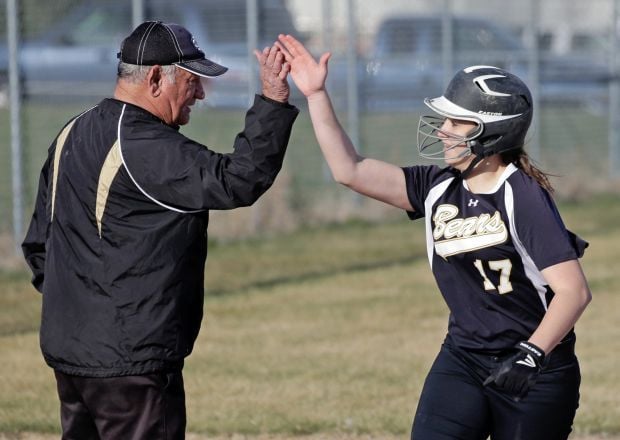 For more, click here
---
Speech and Debate
For the first time in over ten years, a West High Policy Debate team took first place in a tournament. This honor goes to the team of David Porter and Morgan Craig, who defeated their counterparts from Great Falls High in the last debate of the tournament at the Trappers Rendezvous in Powell, Wyoming.
On the speech side, Mr. Thom Smithlin's Extemp squad continued its impressive season. Four of the six finalists in that event were West High competitors. After the last round, Jacob Linfesty emerged victorious, and Mary Helen Satrom came in second.
Other impressive finishers in various events included Jess Keller (2nd), Brin Purdy (3rd), Parker Gunderson and Erin Wunker (3rd), Addison Gottwals and Erin Stafford (3rd), Madi Morgan (5th), Mick Mattie (5th), Jordan Lemm (6th) and Trevor Canty (6th). Overall, West High took 3rd. HIGH SCHOOL BOUNDARY
---
Speech and Debate
The speech and debate team had a very successful weekend in Great Falls. Several on the team placed in quarter and semifinals, and there were standouts in both speech and debate. Tori Neary placed second, and Jess Keller and Jacob Linfesty both came back with first place trophies in their respective individual events.
As a team, West came in 5th, just two points behind 4th place Hellgate. Congratulations on a truly remarkable accomplishment.
---
Standout Students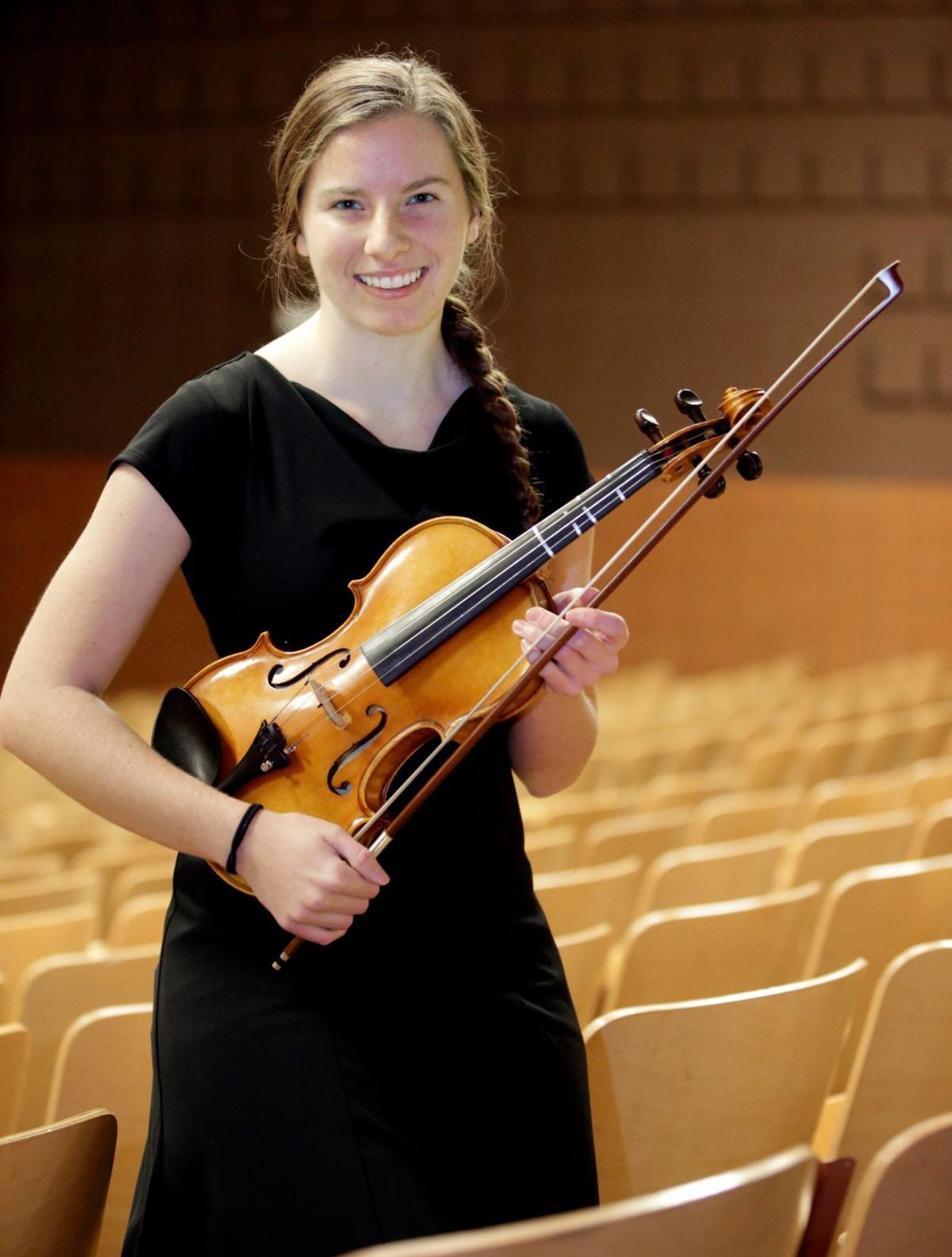 The Billings Gazette and Arts Without Boundaries
are recognizing outstanding high school seniors in the
Billings area for their contributions to the arts.
Over the course of the 2015-16 school year,
Enjoy will feature high school seniors who are recipients of a
$100 scholarship, awarded by Arts Without Boundaries,
a nonprofit group that promotes the arts in K-12 schools.

Marissa Kosmann, Billings West High School Orchestra:
"Orchestra has always been a pleasant and fun experience for me. I have played for nine years, and plan to continue after high school." See Billings Gazette article for more...
---
Speech and Debate
Speech and Debate traveled to Helena on Friday for the Carroll College Tournament of Champions and the Dusty Roads Invitational. Both teams ended up in the middle of the standings, but there were some individual standouts.

Lincoln Douglas debaters had a good showing at Carroll. Parker Gunderson made it to the first elimination round, Jess Keller made it to semi-finals, and Craig Walker took 1st place in the novice division.
At Helena Captial, a handful of speech competitors made it to semifinals: Peri Russell and Cosette McCave in Dramatic Interp, Jacob Linfesty and Reagan Linde in Extemporaneous, and Trevor Canty in Impromptu. Tori Neary took 5th in Impromptu. Our next tournament will be in Great Falls December 11th and 12th.
---
Congratulations to these top 10 finishers in the
Montana Science Olympiad:
3rd Place - Izabella Strange, Forensics; Erin Stafford and
Maddie Sholar, Green Generation
4th Place - John Brault and Maddie Sholar, Invasive Species
6th Place - James Carr and Whitaker Mercer, Experimental Design
---
Speech & Debate Team 3rd at Butte!
Speech
● Loren Hart (7th) ● Mick Mattie (7th) ● Peri Russell (6th)
Cosette McCave (5th) ● Mary Helen Satrom (5th, 4th)
● Victoria Neary (4th, 3rd) ● Jacob Linfesty (1st, 3rd) ● Trevor Canty (1st)
Debate
● Erin Stafford & Addison Gottwals (6th)
● Maddy Ouellette & Maddie Sholar (2nd) ● Jess Keller (2nd)

In Belfry:
*James Unzaga & Sarah Wiseman (8th)
* Elise Vopel & Sean Toohill (6th) * Craig Walker (2nd)
---
Golden Bear Speech & Debate Team
3rd PLACE OVERALL
AT SATURDAY'S SEASON OPENER!
Craig Walker 1st Place, Novice Lincoln Douglas Debate
Dylan Burton 1st Place, Varsity Lincoln Douglas Debate
Jacob Linfesty 1st Place, Extemporaneous
Maddy Ouellette & Maddie Sholar 1st Place, Public Forum Debate
Tori Neary 2nd Place, Impromptu
Cosette McCave 2nd Place, Dramatic Interpretation
Trevor Canty 4th Place, Impromptu
Jacob Linfesty 4th Place, Expository Speaking
Parker Gunderson 6th Place, Varsity Lincoln Douglas Debate
Mary Helen Satrom 8th Place, Extemporaneous
James Unzaga & Sarah Wiseman 8th Place, Novice Policy Debate
---
Congratulations Dr. Shawn Bowman
BWHS Mathematics Teacher Shawn Bowman
earned his doctorate in Interdisciplinary Leadership
from Creighton University on October 16th
when he successfully defended his dissertation titled:
Credit Recovery in Secondary Schools: A Quantitative Evaluation. Congratulations on your achievement, Dr. Bowman!
---
Congratulations Wilson Harris!
Montana semifinalist for the
2016 U.S. Senate Youth Scholarship program.

His selection was based on the top scores from the qualifying exam given at high schools across Montana earlier this month. Wilson will continue in the competition to try to earn a $5,000.00 scholarship and a trip to Washington, D.C. this spring, to study government and leadership at the nation's capital. Only two Montana students will be awarded this honor. West High wishes him good luck as he continues in the competition.
---
MEA-MFT Educators' Conference Presenters
Thank you to the following West High staff for
presenting at the MEA-MFT Conference:
Rachel Schillreff, Brittany Alberson, Brooke Bloomenrader,
Steve Macartney, Margaret Aukshun, Tammy Erlenbusch,
Bruce Wendt, and Jana Lind
---
Flohr, West boys shatter state records
to win Class AA golf titles.
Billings West senior Hayden Flohr tees off on the 12th hole Friday during the final day of State AA Golf Tournament at bill Roberts Golf Course in Helena. Flohr shot a 68 on Friday and a 144 over two days to set the AA tournament record by a stroke. The West Boys set a team record with their two-day score of 580, breaking their own mark set in 2004. The Bears won by 18 strokes over Billings Skyview.
---
National Merit Scholarship
Semifinalists:
Trevor Canty,
Jessica Keller,
Erin Stafford
They are among 16,000 semifinalists nationwide
and have the opportunity to continue in the competition
to reach the 7,400 recipients of
National Merit Scholarships to be offered next spring.
The three qualified as semifinalists through their outstanding
PSAT scores, taken in October of 2014.